Economist Cover Image.
The
Economist
's current cover image (above) is captioned "Web of Lies". In its cover story, the
Economist
, asserts Putin's responsibility for the murder of 298 aboard Malaysia Airlines MH17. As Paul Craig Roberts, former Wall St. Journal Editor, Professor, Deputy Secretary of the US Treasury, etc., etc.,
observes
: "The kind of reckless lies and transparent propaganda that comprises The
Economist
's story has no other purpose than to drive the world to war."
But Britain's
Rothschild directed
Economist
is not alone. The reckless lies and transparent propaganda is internationally coordinated. In the United States of Aggression both
Time
and
NewSpeak
, in Germany,
Spiegel
, in Canada
Macleans
, and in Portugal, a scrumbag rag called
Veja,
all have front covers accusing Putin of dangerous aggression, criminality or mass murder. That four of the six feature Putin in dark glasses is no coincidence.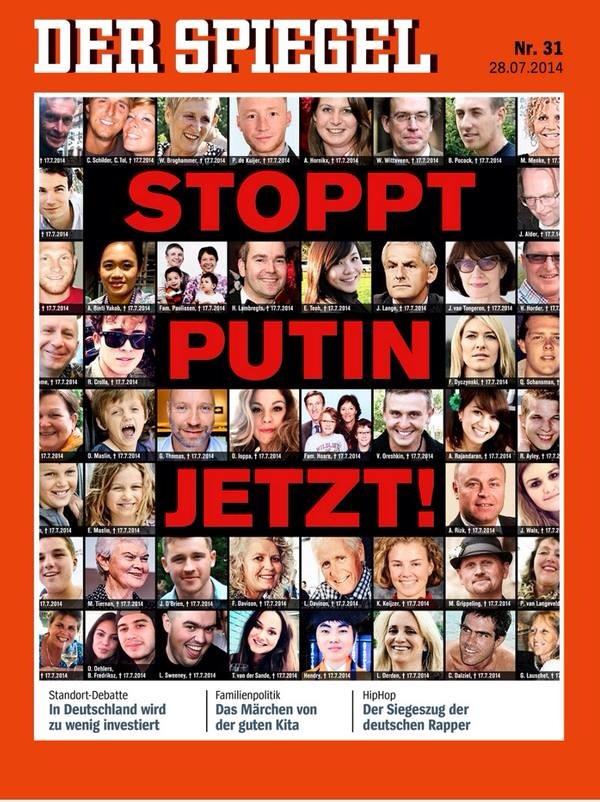 Translation: STOP PUTIN NOW!
translation: Putin's guilt
Image source:
The Saker: coordinated Russophobia in the Presstitute Mainstream Media
Related:
The Daily Lede:
BREAKING: Russia's FM Lavrov says Moscow has proposed the UNSC to adopt a resolution on the deployment of Russian peacekeepers to MH17 site
Cannonfire:
The horrors -- or should that be "whores"? -- of American journalism
Global Research:
Global Elite Agitating for War Against Russia
David Stockman:
On Dominoes, WMDs And Putin's "Aggression": Imperial Washington Is Intoxicated By Another Big Lie
CanSpeccy:
US Lies About Malaysia Airlines MH-17 Served Their Purpose Well
The Saker:
'Yukos judgment marks true divorce between Russia and the West'
Zero Hedge:
The Shocking Reason Putin Isn't Worried About The $50 Billion Yukos Ruling